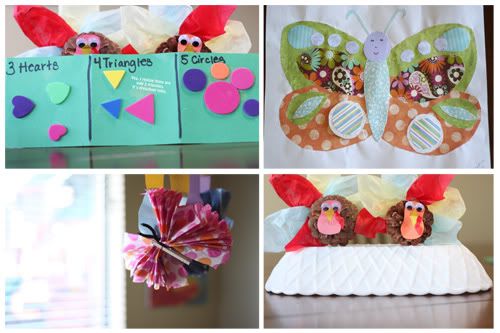 Sometimes a little inspiration is all you need.
You probably have everything you need for these 4 crafts laying
around in your dining room (poor woman's craft room) right now.
Top Left: Counting, Shapes, and Color. Kids love to use glue so indulge them.
Top Right: Just get creative with a butterfly. Talk about what symmetry means.
Boys can also make manly butterflies with blacks and blues and reds.

Bottom Left: Props to my creative babysitter. I usually
leave some items laying around on the days she comes to watch
the kids because I know she will come up with something great like
a paper tissue/clothes pin/pipe cleaner butterfly.

Bottom Right:
I found this cute little pinecone turkey craft at this
link here
.
Perfect for a festive Thanksgiving table!
And here is a peak at a wreath I threw together
today using~ahem~coffee filters.
A post about this to follow.
Now go make a mess with your kids!